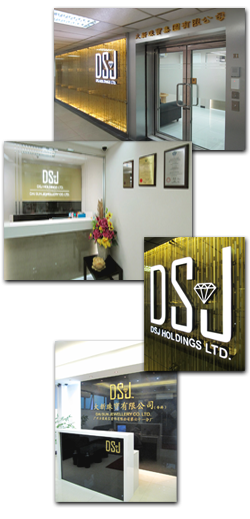 Dai Sun Jewellery Co., Ltd. (DSJ) was founded in 1993; its business scope includes Original Equipment Manufacturers (OEM), Original Design & Manufacturer (ODM) and Original Branding & Manufacturer (OBM). Over the past 20 years, DSJ prioritizes "Creditability" as its core value; customers' need is most valued and the Company aims to provide goods and services at its highest value. Forging ahead with innovation in product design and the integration of exquisite craftsmanship and cutting-edge technology, DSJ provides quality and unique designed products, aiming to be the "Custom Fine Jewellery Expert". Hong Kong, China, Southeast Asia, Middle East, Australia, USA and Europe are the main markets.
On brand development, DSJ puts a number of new elements in jewellery design. In 2010, inspired by the Chinese mythology and symbols, together with the concepts of "Chinese Traditional Culture", "Nature" and "Quality Life", the collection of "J Myths" was launched. The integration of the Chinese artistic carving skills in jewellery design is groundbreaking in the jewellery industry. With this pioneer integration, each pieces of jewellery is endowed with life and is presented at its perfect state.
Between the year of 2012 and 2014, with the integration of the essence of "Ocean, Earth, and Sky' in the designs of "Phantasma", "The Inheritance" and "Graceful Phoenix', the three pieces have won the "JMA International Jewelry Design competition" Championships for three consecutive years. The Company has also gained "The Best of the Best Award" and "Best Craftsmanship Award'; these serve as a recognition to the professionalism of DSJ kindly given by Hong Kong and overseas buyers.
In recognition to the Company's quality development and its corporate social responsibility commitment, the company has received the "ISO 9001:2008 Certificate", "2011 Best SME's Award", "Consumer's Most Favorable Hong Kong Brand", "100 Hong Kong's Most Influential Brands", "IIM Management Excellence Award", "The Mirror.Outstanding Corporate Social Responsibility Award", "Caring Company", "Happy Company", "Partner Employer Award" and "Hong Kong Green Organisation Certification" in recent years.