DSJ.2017 New Booth Design - News
Back
DSJ.2017 New Booth Design
Dai Sun Jewellery Company Limited (DSJ) participated "Hong Kong International Jewellery Show" in March 2017 with the new modern booth design!
3D Design Sketch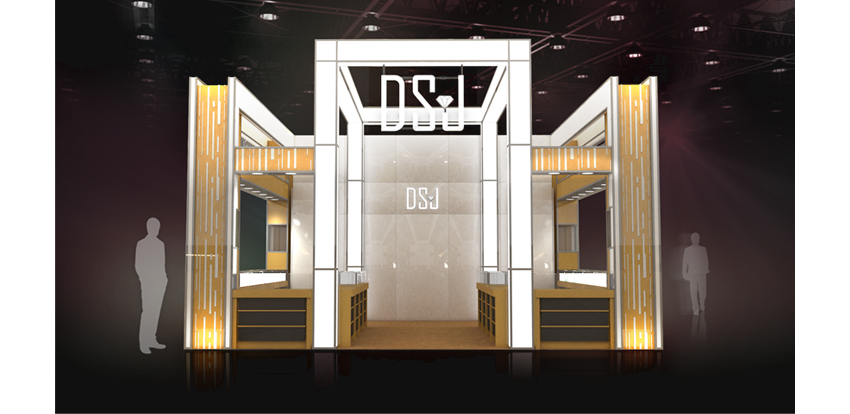 The theme colours of DSJ (gold, white and black) and unique pattern glass becomes the soul of booth. With the amazing combination of linear architecture and LED light effect, it not only creates a structured layer and great sense of space, but it also makes the brand image of DSJ more outstanding!
New Booth Design: "Hong Kong International Jewellery Show"
In the showcase design, DSJ adopts innovative triangular design to create two-sided jewellery presentation. Under various background pictures, the new showcase helps in presenting the excellent integration of product design and exquisite craftsmanship, each pieces of jewellery is presented at its perfect state!
Showcase: Innovative Triangular Design
Moreover, DSJ creates a "J MYTHS GARDEN" for "J MYTHS", the subsidiary brand of DSJ, because of its design concepts: Innovation, Uniqueness, Lifestyle and Nature.
"J MYTHS GARDEN"
It is the first time of using this 2.5m width showcase. With the real flowers, the sound effect of birds' singing and the unique natural background, " J MYTHS GARDEN " becomes a beautiful scenery. It provides visual and auditory enjoyment to our visitors and highlights the unique product design. Each of the jewellery among this wonderful scenery is lifelike and stunning!